Thousands and thousands of years ago, all kinds of healers around the world praised ginger as food AND the medicine.
It is warm in nature – ideal for boosting the circulation, lowering high blood pressure and keeping the blood thin in higher doses. Ginger is anti-viral and makes a warming cold and flu remedy.
It is often used to treat different types of digestive issues such as morning sickness (to include the one from pregnancy), gas, diarrhea, irritable bowel syndrome (IBS), nausea, nausea caused by cancer treatment, nausea and vomiting after surgery, as well as loss of appetite.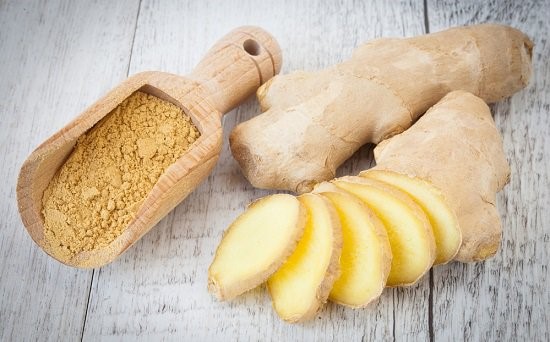 It is also (and very successfully) used for pain relief from rheumatoid arthritis (RA), osteoarthritis, menstrual pain, upper respiratory tract infections, cough, respiratory problems, migraine headache, bronchitis, and diabetes. It is sometimes used for low back pain, as a diuretic, and to increase sweating. It is also used to treat cholera, bleeding, bacterial bloody diarrhea, baldness, malaria, inflamed testicles, poisonous snakebites, and toothaches.
Some people use it on their skin to treat burns. The oil made from ginger is sometimes applied to the skin to relieve pain and internally to relieve stomach discomfort.
In foods and beverages, ginger is used as a flavoring agent – a very good one J
New Research!
New research report presented at The American Association for Cancer Research conference in Phoenix showed that ginger actually suppressed cancer cells suggesting that the herb was able to fuel apoptosis or the death of the cancer cells. Ginger has been shown to work against skin, ovarian, colon and breast cancer. More research is underway.